Board games to beat boredom
As this quarantine has dragggggged on, our family is always looking for new board games to keep us entertained. Even though our kiddo is only five, he is thankfully long past Candy Land. The best thing about kid's board games is that they don't all have to be boring! Here are some of our current top picks by age.
YOUNG KIDS:
Busytown, ages 3+
A family favorite! There's much to discover on this gigantic, colorful game board that's over six feet long! As players race together through Busytown, they'll team up every time someone lands on Goldbug—leaving no corner of the board unexplored as they discover hidden objects and race toward Picnic Island. With hundreds of objects to find this game provides hours of cooperative fun, while building confidence each time a child says, "I found it!"

The Sneaky Snacky Squirrel, ages 3-6
Your forest friends are hungry and they need your help. Spin the spinner, squeeze the matching colored acorn with your Squirrel Squeezers and place it into your log. Be the first to fill your log with delicious acorns and you win. You could also spin "pick an acorn," "steal an acorn," or "lose an acorn," so be strategic, little squirrel. Develops matching, sorting, strategic thinking, hand-eye coordination, fine motor skills and pre-handwriting skills.
(NOTE: Many of these Educational Insights games were a hit. This particular one also has a matching book.)

Race to the Treasure, ages 5+ (I'd say 4+)
In this game, which has won multiple awards including the Oppenheim Toy Portfolio Platinum Award, players try to beat the Ogre to the treasure by creating a path from Start to End. Along the way they need to collect three keys to open the treasure. Players strategize, cooperate and build a path together. If they do it before the Ogre gets there, they all win!
(NOTE: Peaceable Kingdom is great for cooperative game-playing games… particularly if losing isn't a skill set your child has acquired yet! Count Your Chickens is great for little ones and Dinosaur Escape Game is a good one for dino lovers!)

Outfoxed!, ages 5+
Mrs. Plumpert's prized pot pie has gone missing, and now it's a chicken chase to crack the case! In Outfoxed, you move around the board to gather clues, then use the special evidence scanner to rule out suspects. You have to work together quickly because the guilty fox is high-tailing it towards the exit! Will you halt the hungry hooligan before it flies the coop or will you be Outfoxed?

Other well-loved games include Yeti in My Spaghetti, Trouble, Sorry, Silly Street and all the classic kid card games like Old Maid and Go Fish.

TIP: These card holders are a LIFE-SAVER when you have little kids!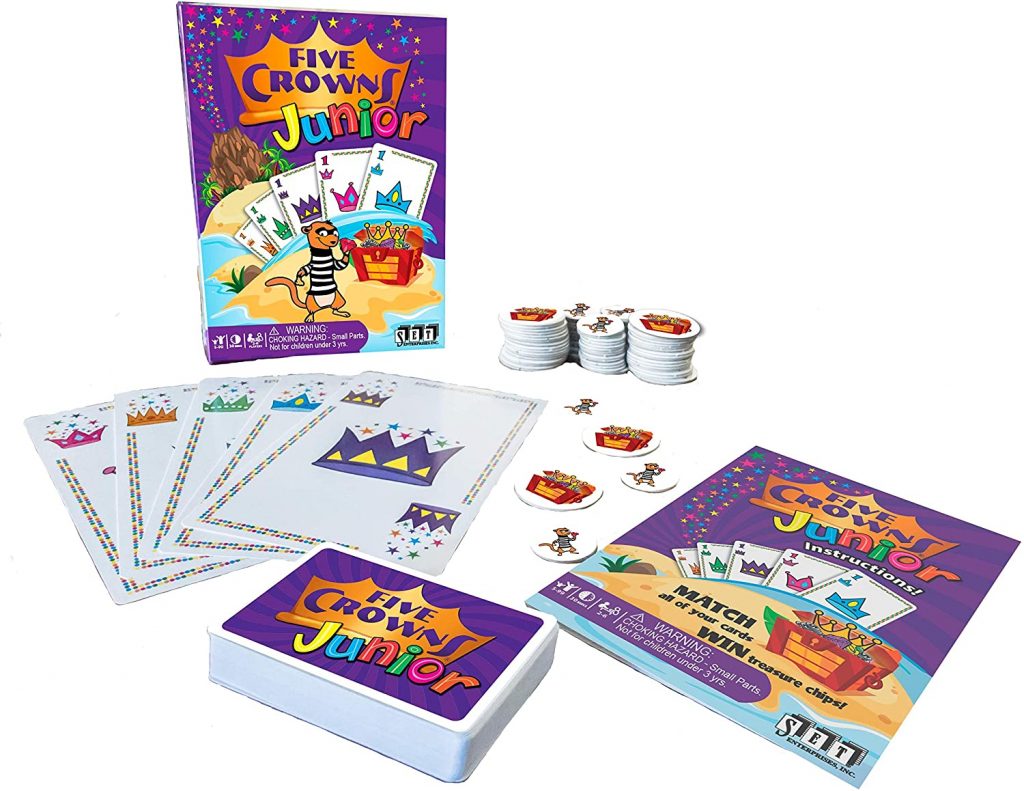 ELEMENTARY AGE:
Zingo, ages 4+ to 3rd grade, depending on version
Zingo is one of ThinkFun's most popular and bestselling games, and is the winner of an Oppenheim Gold Award and Parents' Choice Gold Award, among others. It's a fun pre-reading game for ages 4 and up, and is a great holiday or birthday present for kids. Like all of ThinkFun's games, Zingo is built to develop critical thinking skills and makes for a fun and challenging activity. Playing will improve language skills through fun and fast placed play.
Five Crowns Junior Card Game, ages 5+ (8+ for the non-junior version)
Five Crowns Junior is an award-winning game based on the classic game, Five Crowns. Start each round by flipping over the extra-large wild card to reveal what color crown is wild. Be the first to match all five cards in your hand by color or number and win a treasure chip! After one player goes out, each player gets one last chance to match what they can. Any unmatched cards earn Robby chips but beware Robby the packrat wants to steal your treasure, so try your best to match all five of your cards! The player with the most treasure chips at the end of the fifth round wins! Five Crowns Junior is much more than your average children's game- this timeless favorite fosters learning and fun for everyone!
Ticket to Ride, First Journey, ages 6+
A family favorite! There's much to discover on this gigantic, colorful game. Players of all ages can now venture across America by train in Alan R. Moon's Ticket to Ride: First Journey. With a brand new map and simplified rules, First Journey is the perfect way to introduce new players to the game of cross-country travel. Just like in Ticket to Ride, players collect train cards, claim routes, and try to connect cities coast-to-coast. In First Journey, though, routes are shorter, train cards are drawn straight from the deck, and the game ends when one player completes six tickets, claiming the Golden ticket as their prize. Climb aboard, travelers, your incredible first journey awaits.
(NOTE: The regular Ticket to Ride is recommended for ages 8+)
Sleeping Queens, ages 8+
Rise and shine! The pancake Queen, The ladybug Queen and ten of their closest friends have fallen under a sleeping spell and it's your job to wake them up. Use strategy, quick thinking and a little luck to rouse these napping nobles from their royal slumbers. Play a Knight to steal a queen or take a chance on a juggling jester. But watch out for Wicked potions and dastardly Dragons! The player who wakes the most Queens wins. As you immerse yourself in this fantasy land, you will find a game that helps develop memory, strategy, and Elementary arithmetic skills. Just be careful when playing potion cards or you could wind up putting all the players to sleep!
(NOTE: Check out Gamewright's other offerings, too! Lots of fun games including Slamwich.)

FAMILY GAMES:
Mancala, ages 6+
Mancala is one of the world's oldest and best-loved games. Players take turns scooping up the special stones and counting them out one at a time into the pockets on the board. When they drop a stone into an empty pocket on their side of the board, they capture all the stones in the opposite pocket. It sounds like a simple marble game, but it's got plenty of strategy and reinforces STEM skills like counting and strategic planning. The player who collects the most stones wins.
(NOTE: Our kiddo learned an immense amount of strategy skills from Mancala. Ready for a step up? Try Pentago!)
Uno, ages 7+
UNO is the classic family card game that's easy to pick up and impossible to put down! Players take turns matching a card in their hand with the current card shown on top of the deck either by color or number. Special action cards, like Skips, Reverses, Draw Twos, color-changing Wild and Draw Four Wild cards, deliver game-changing moments as they each perform a function to help you defeat your opponents. The first player to get rid of all the cards in their hand wins.
(NOTE: If you've played the classic Uno a few too many times, try Uno Flip or Dos or move on to Phase 10 or Skipbo! We also love Snappy Dressers which has 10 different ways to play!)
Blokus, ages 7+
Stake your claim and protect your territory with the Blokus game! It takes less than a minute to learn, but offers endless strategy and fun challenges for the whole family. Each player gets a set of 21 pieces – in red, blue, green, or yellow – then takes turns placing them on the board. There's just one rule: each piece you play must touch at least one other piece of the same color, but only at the corners! The goal is to fit the most pieces on the board. The game ends when no more pieces can be placed down, and the player with the lowest number remaining wins!
(NOTE: Hands-down family favorite right now!)
Qwirkle, ages 6+
Put on your thinking hat and show off your strategy skill with the Qwirkle Board Game from MindWare. Create rows and columns of matching colors and shapes with its brightly colored wood tiles to score points. This game is sure to keep you and the family occupied for long hours. Let the games begin!
(TIP: You can "end" this game whenever you run out of tiles. So, if you need a short game, just don't put out as many tiles!)

Next up for us is Sequence, with Sushi Go!, Exploding Kittens and No Stress Chess sitting on our Amazon list. What are your family's favorite games?