Welcome Home
If you're new to working from home, you've come to the right place for articles, advice, venting, tools and humor. Working at home can be challenging — and rewarding. With over two decades of experience, WORKLIFE@HOME can help you navigate this special way of working.
This site is still in beta testing so please excuse any performance issues. If you find a problem, by all means let us know in the "How can we make this site more useful" forum.  Thanks and enjoy!
W O R K L I F E @ H O M E F O R U M
Working from home
Last Post Info
Conversations about how to work more effectively with your team from home.
Topics: 11

|

Posts: 36
How to deal with kids, interruptions, curious spouses and roommates.
Topics: 7

|

Posts: 22
Conversations about taking care of yourself physically and emotionally while working from home.
Topics: 13

|

Posts: 36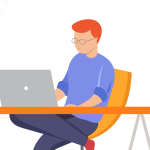 Hey, you have to have some fun! Share humor and other entertainments here.
Topics: 11

|

Posts: 31
All your suggestions are welcome. And your complaints, too.
Topics: 4

|

Posts: 5